Our Capabilities
1) Designing and fabricating pressure vessels, heat exchangers and storage tanks that adhere to the following international codes and standards:
ASME Standard

BS Standard

API Standard

TEMA Standard
2) Utilizing 3D models to enhance and interpret the visual representation of the various equipment, which will assist in equipment layout and piping routing within the package design
In our effort to ensure the highest standards of quality services delivered, Stracom developed a documented quality management system and demonstrated an excellence of compliance and project control.
3) Developing a one-stop solution system integrator for skid mounted packages as shown below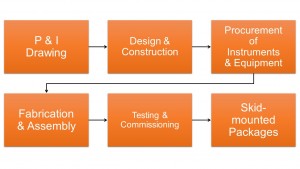 In accordance with our motto "Do It Right the First Time", we believe in doing things accurately right from the start.
Our customers are always of the utmost importance. In an effort to achieve greater customer focus and satisfaction, not only do we produce packages that fulfil the specifications and requirements of our clients, we also plan and work together with our customers, designing and producing packages that are specifically tailored to their requirements, thus enhancing satisfaction.